# Hand2Note Affiliate System
We're happy to cooperate with poker schools, stables, streamers, coaches, content creators, and any other poker community members who wish to promote Hand2Note.
# What do we offer
# 25% lifetime affiliate commission
You get 25% reward for every purchase made by your referrals.
For example, your referral purchases an annual EDGE version for $238.8. You'll get $59.7 from this deal. If they decide to renew the license next year, you'll get $59.7 again and so on.
# 10% discount for referrals
Users who enter your promo code when paying for a subscription will get a 10% discount. This discount doesn't reduce your commission (it's calculated from the total price).
# Free EDGE/PRO licenses for influencers
If you're a coach, streamer, blogger, or any other active member of poker community, we'll be happy to provide you with a free Hand2Note EDGE or PRO license. Apply here (opens new window).
# Options for major affiliates
We're glad to consider extended cooperation options, including Enterprise Account and Hand2Note Balance.
# How to become an affiliate
There are two simple steps:
Registration is free and open for everyone.
# Affiliate Dashboard
Once you're registered as an affiliate, you'll have your own Affiliate Dashboard (opens new window) page.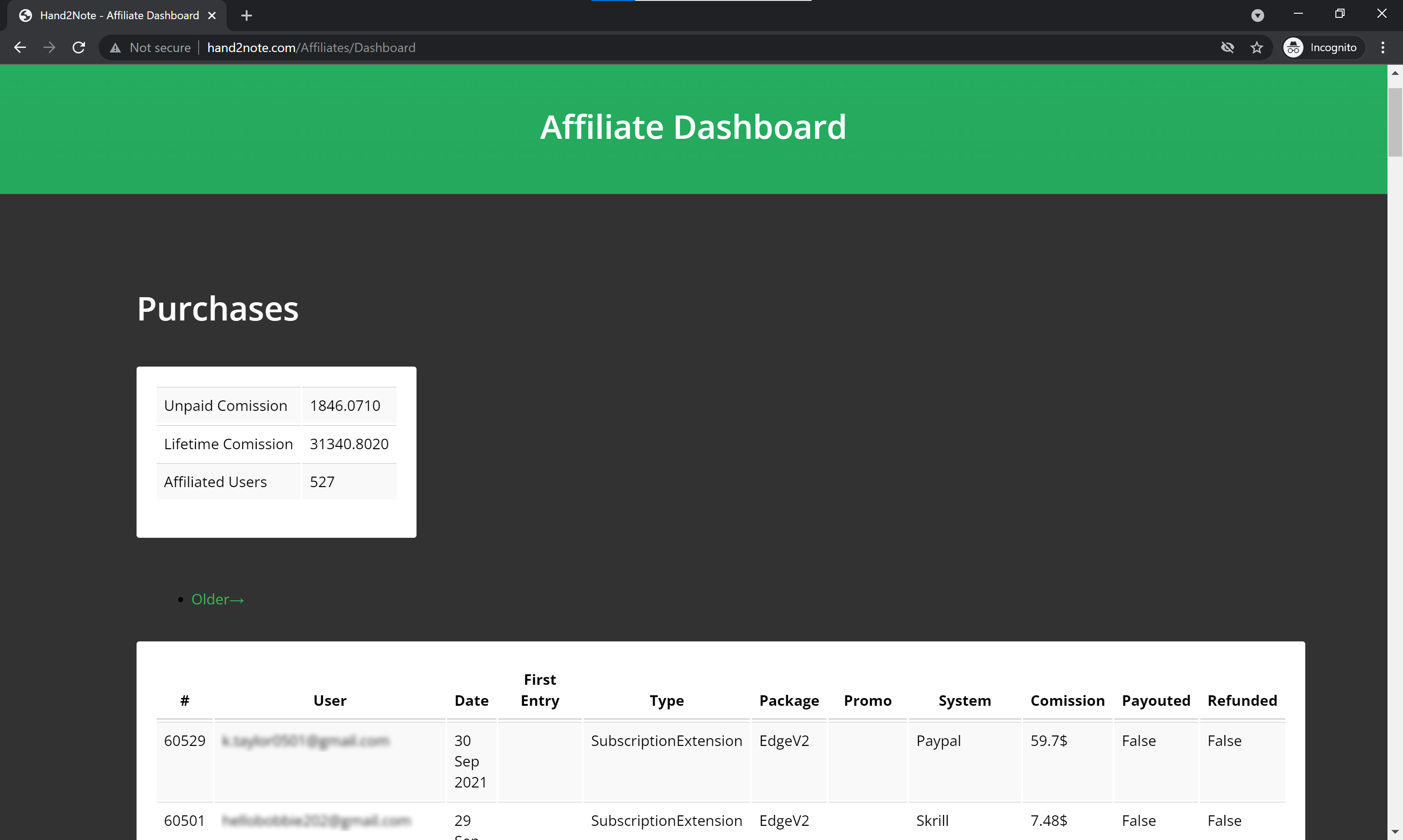 There you can find your promo codes and links, Hand2Note banners, and referral purchases history.
See all Hand2Note banners and logos
# How to motivate players to use your promo code
Besides the default 10% discount, you can come up with additional bonuses for your referrals to make your offer look better compared to other affiliates. For example, you can build your own HUD&popup package and give it for free to all of your referrals.
# Payouts
Payouts are made automatically every two weeks through Skrill or PayPal. Just set the email of your account when filling the affiliate registration form. You can also edit your profile (opens new window) after registration as well.
# Technical information
Cookies are stored for 90 days. If user makes a purchase in 91 days or later after they clicked on your affiliate link then they are not treated as affiliated by you.
If user clicked on AffiliateA link and then clicked on AffiliateB link then user is treated as affiliated by AffiliateA.
If user clicked on AffiliateA link and then purchased subscription with AffiliateB promo code then they are treated as affiliated by AffiliateB.
# Contact us