# HUD is not displayed
If you run Hand2Note with the room for the first time, HUD may not appear instantly. First of all, just try to wait a few minutes while keeping Hand2Note and your room client open.
If HUD doesn't appear, do the following:
Update Hand2Note to the latest version.
Turn on the "Enable HUD with hand history conveters" option.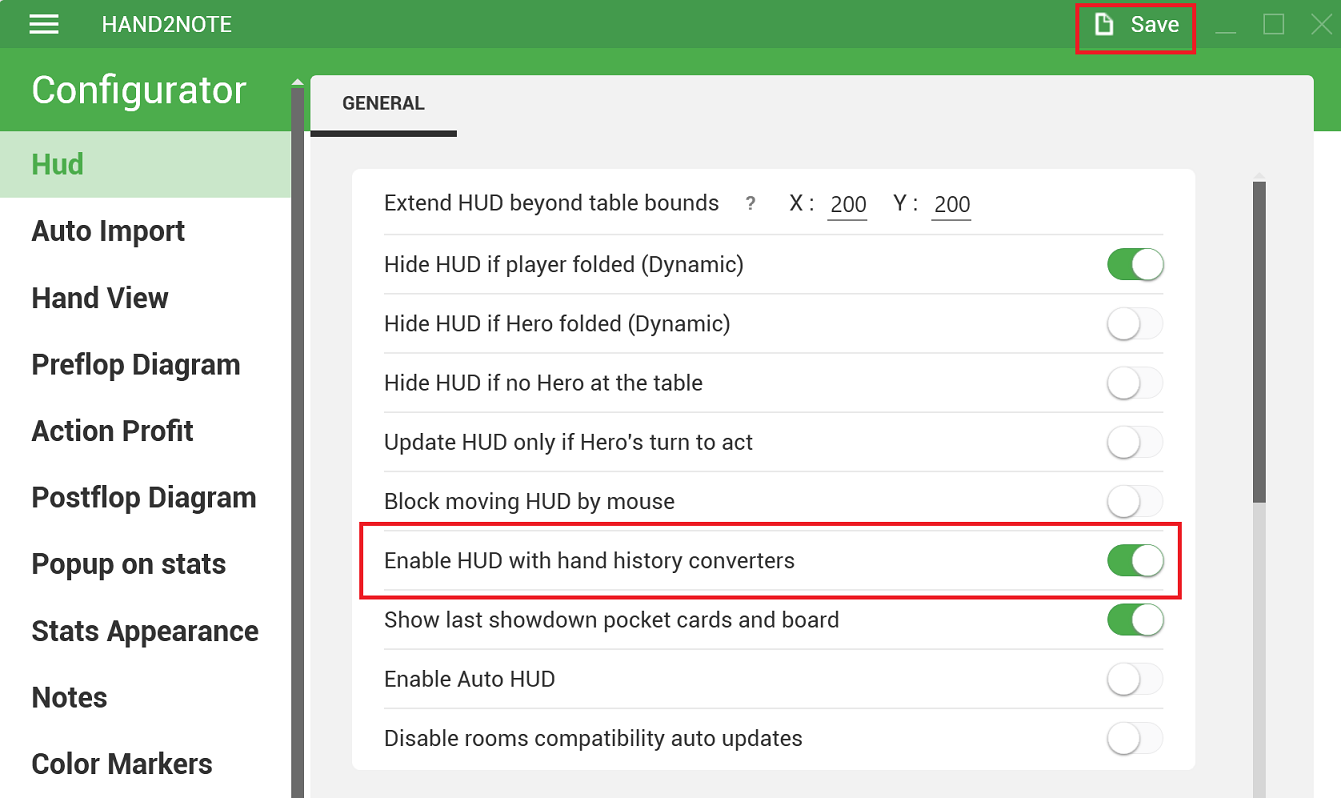 Disable antivirus, or add Hand2Note to exceptions list.
Install all the latest Windows updates.
Restart computer and router.
Follow specific instructions for Asian apps or PokerStars if you play in that rooms.
# Asian rooms
If you play in one of the Chinese apps:
Make sure that you have valid ASIA or PRO subscription, or your free trial is still active.
Make sure that you don't run other converters simultaneously with Hand2Note.
Make sure you're using a suitable Android emulator software and playing supported game type. Take a look at the compatibility table.
If you're using LDPlayer 4.xx, please set ADB debuggining option to Open local connection.
Run in the following order:
Restart your computer
Run the required number of emulators and run the room application
Run Hand2Note as administrator
Wait 1 minute
Restart emulators one-by-one
Wait until HUD appears
# PokerStars
Set English language in PokerStars app.
Run PokerStars app as administrator.
Make sure you have configured auto-import properly.
If HUD stopped working immediately after PokerStars update, it is possible that the new version of the client is not supported by Hand2Note yet. Don't worry, the update with the support of the new version will be released shortly. If you want to play right now, you can temporarily rollback the PS client to the old version. To do this, follow the instructions:
Go to PokerStars installation directory (Usually it is located at C:/Program Files (x86)/PokerStars)
Go to backup folder
Select all the files by pressing CTRL + A
Copy all the files you've selected by pressing CTRL + C
Go back to PokerStars folder
Paste all the files by pressing CTRL + V, select "Replace files in destination folder"
Run PokerStars using PokerStars.exe file from PokerStars folder (Not via the standard shortcut on the desktop, otherwise the client will be updated again)