# PokerKing HUD
# Fast and accurate HUD for PokerKing
Hand2Note gives you the opportunity to use 99.9%+ accurate, fast, advanced and fully customizable HUD on PokerKing and other Asian apps running on Android emulator.
DOWNLOAD
Free trial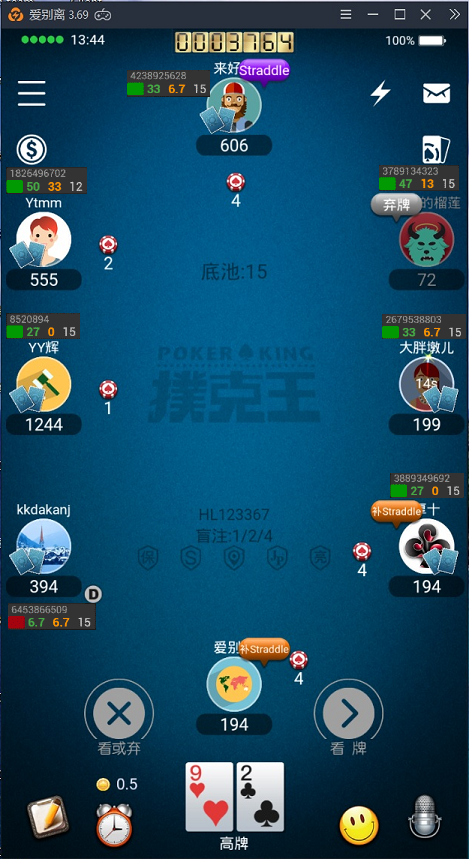 Figure 1. PokerKing HUD with Hand2Note
You can use HUD with the following poker game types in PokerKing:
No Limit Holdem
Pot Limit Omaha
Six plus Holdem
# Why choose Hand2Note?
Hand2Note is the most advanced poker tracker among all programs supporting Asian apps.
We provide a wide range of features that you can use at PokerKing and other rooms to improve your game and increase your advantage over the opponents:
Straddle position is fully supported.
Dynamic and positional HUD allows you to see only the relevant stats for the current game situation.
Auto HUD automatically shows the most useful statistics for the specific game spot.
Advanced note taking system gives you the ability to write notes on stats and insert hand into note by 1 second.
Extended popup on stat with a lot of additional information (diagrams, hands list) is shown by default when you hover each stat in your popup.
Range Research and Decision Analysis provide comprehensive tools for your own game analysis as well as exploring your opponents ranges.
... and many other features (opens new window).
# Installation
Download

(opens new window)

Hand2Note installer and install the software.
Run Hand2Note.
Run PokerKing app on the supported Android emulator.
Free 14-days trial period for Hand2Note will be activated automatically right after you run both Hand2Note and PokerKing.
Open a poker table.
That's all. HUD will appear on the table.
# FAQ
# HUD is not shown on PokerKing. What should I do?
Make sure you are using one of supported emulators.
Log in into PokerKing application while Hand2Note is running.
If nothing helped, please, contact us by live chat on our website or by email support@hand2note.com.