# Updating & Older versions
# Current version. Updating.
Information about the version you are using is displayed in the bottom right corner of the software. The update history of Hand2Note and integrated modules can be viewed by clicking on the "Updates" link.
In case the inscription is not marked in red, there are currently no general updates available, and you are using the latest version of the product.

If the inscription is red, then there are updates available that are recommended to install.

You can click on the "Updates" link and install them: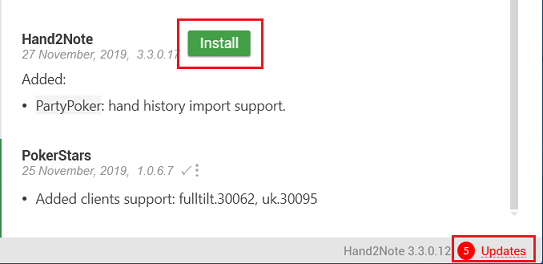 If problems occur during the update, please, reinstall hand2note according to the instructions.
Integrated modules that are responsible for hand history gathering from the rooms are usually updated automatically in the background when you run the specific room.
# Older versions
You can rollback to any previous version through Hand2Note interface. You need to click on the "Updates" link in the bottom right corner, then click on three dots icon opposite the desired version and select "Rollback":