Simply post and share a hand!
Copy and paste hand history, get a link and share it with others.
Easiest way to post a hand history
Copy and paste hand history into the box and get a link or an image instantly.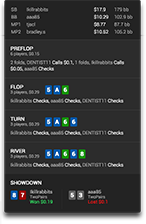 No need to upload an image to a hosting. One click - one image at our host.


Supported rooms
PokerStars
Pacific Network
PartyPoker
IPoker Network
Winning Poker Network
Microgaming
Winamax
Most of the other existing global rooms...
PokerMaster
PokerKing Asia
UPoker
RedDragon
PokerClans
PP/KK Poker
Real Poker
WePoker
All-In Poker
All other asian rooms...