# Stats in Hand2Note
Hand2Note has a powerful intuitive interface for creating stats. Also, a large number of ready-made stats are available immediately after installation.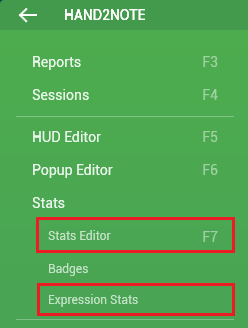 All stats in the Hand2Note system are divided into two groups: Plain and Expression. You can manage plain stats in Stats Editor, and expression ones in a separate section of the same name.
Plain stats
are stats showing the frequency of an action in a particular game situation. For example, Open Raise or Continuation Bet.
Expression stats
calculated according to specific formulas that contain plain stats as arguments. For example, Aggression Factor or WTSD.
You can find more detailed information on working with stats in our articles: