# RedDragon HUD
# Easy-to-start HUD for RedDragon app
Download Hand2Note and start using fast, accurate and customizable HUD, as well as other advantages of the most advanced poker tracker right now. Hand2Note supports Red Dragon and also many other Asian rooms.
DOWNLOAD
Free trial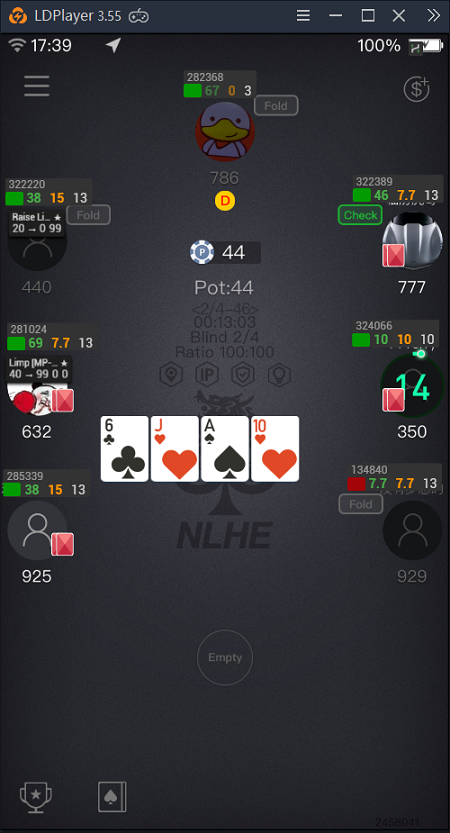 Figure 1. RedDragon HUD with Hand2Note
It's recommended to use LDPlayer (opens new window) Android emulator for playing in RedDragon app for more stable integration with Hand2Note.
The following game types are supported by Hand2Note HUD on Red Dragon:
No Limit Holdem
Pot Limit Omaha
6+ Holdem
# Advantages of Hand2Note over other trackers
Hand2Note provides a wide range of advanced and unique features (opens new window) for HUD and game analysis that other similar programs do not support. You can use complex positional and dynamic HUDs, automatic HUD, extended popups to always have only accurate and relevant stats for the current game situation. In case you are not interested in a complicated HUDs and popups you can also just use simple default HUD. Hand2Note is suitable for any needs and players of any level.
If you need to analyze your game or explore your opponents tendencies, Hand2Note gives you a full set of tools to do that. Mark hands during the game for the future analysis, use reports and sessions tabs to track your results. Use the full power of Hand2Note software by making professional analysis with Range Research and Decision Analysis functions.
# Installation
Download

(opens new window)

Hand2Note installer and follow the installation instructions.
Run Hand2Note.
Run RedDragon app using supported Android emulator.
Free 14-days trial period for Hand2Note will be activated automatically right after you run both Hand2Note and emulator with RedDragon app.
Open any poker table.
That's all. HUD will appear on the table.
# FAQ
# What to do if I can't get HUD work on RedDragon?
Make sure you are using one of the supported Android emulators.
Log in into RedDragon app while Hand2Note is running.
If nothing helped, please, contact us by live chat on our website or by email support@hand2note.com.