# Reports
You can track your results in Reports and Sessions sections.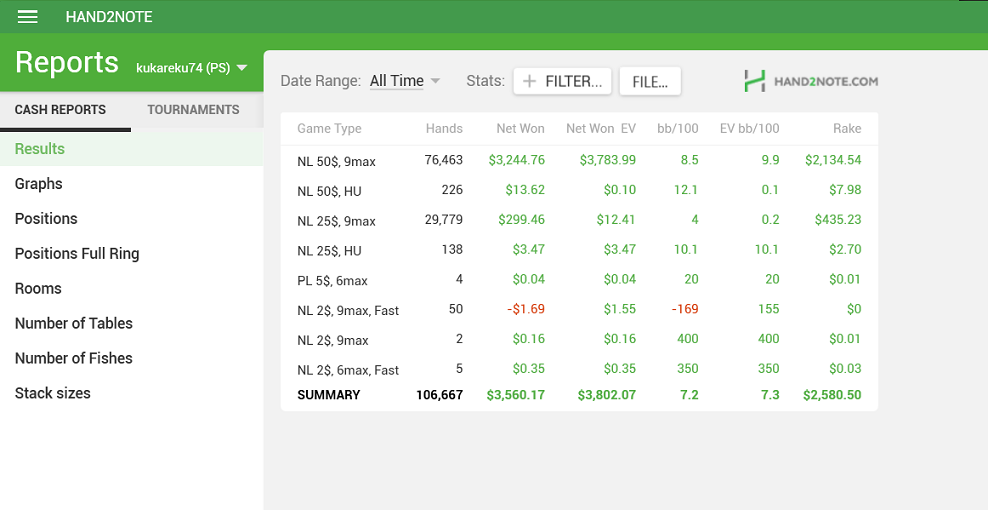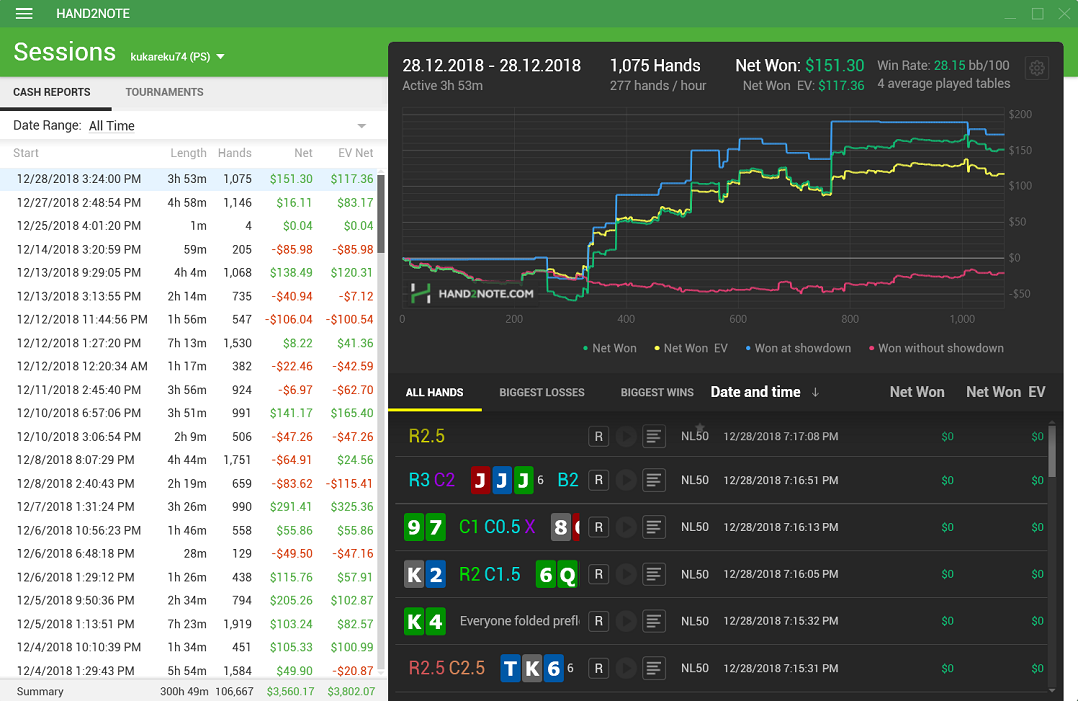 First of all, select the player whose results you want to check (Hero).

You can create an alias and check the results of a group of players at once (or the summary results of all your accounts).
You can quickly apply date range filter and see summary results for the hands played only in selected period.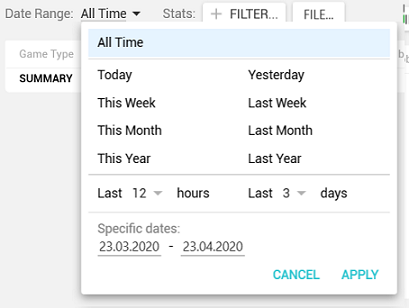 In Reports section you also may apply additional filters to explore profitability of different games, lines and hole cards.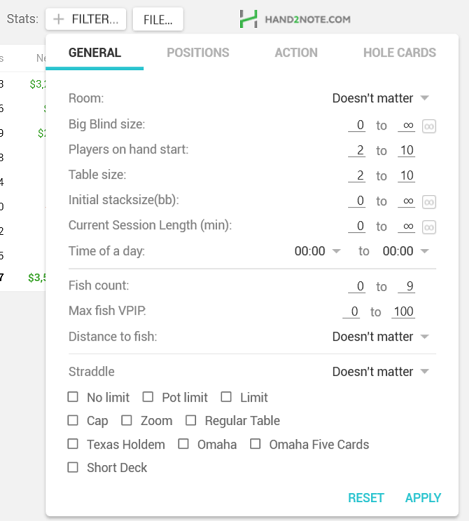 There is a list of different reports on the left side and you can easily switch between them.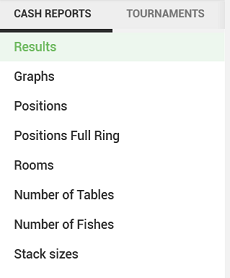 Let's consider real use case. For example, you want to check your open raises from different positions.
Firstly, switch to "Positions" report on the left side. Then click on +FILTER button, switch to ACTION tab, select Unopened as preflop action facing and Raise as your action on preflop.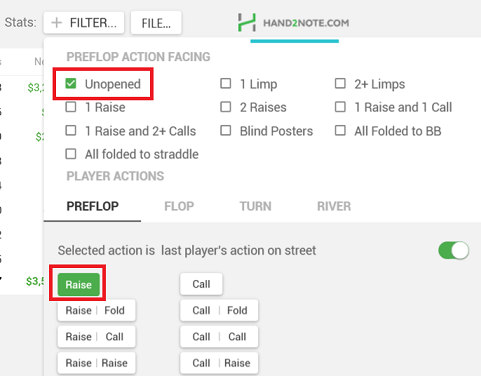 After you apply selected filters, you can see EV of your open raises from each position.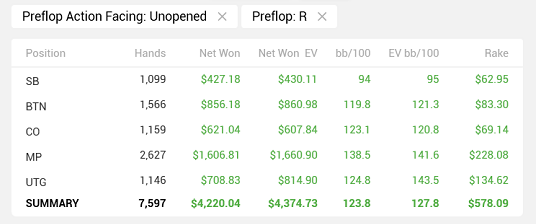 If you want to see the results in different currency, change the main currency in Configuration → Other options → Currencies.
For a more thorough study of the profitability of your decisions you can use Decision Analysis tool.
To review actual hands, right click on one of the result lines and select Show hands.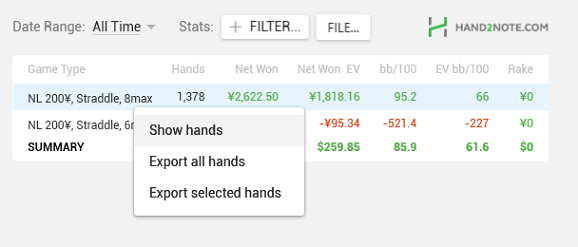 The additional window with hands list will open.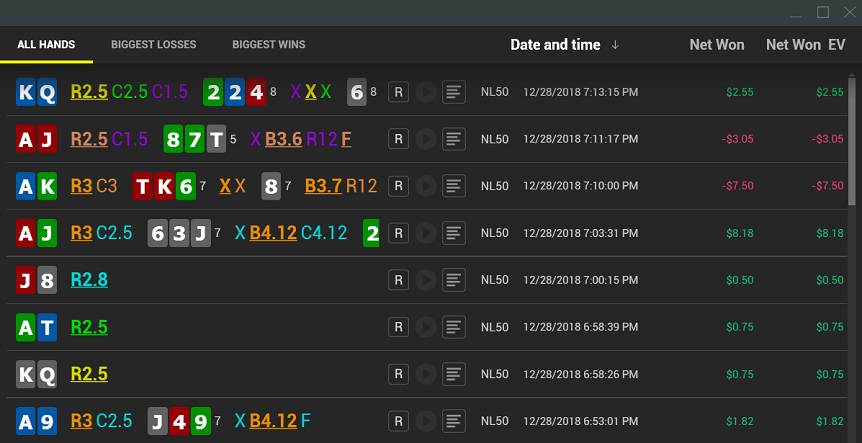 Hands are displayed in a compact, easy-to-read format. You can also replay any hand by clicking on "R" icon opposite desired hand.
# FAQ
# How to review Hero's stats?
There are no stats in Reports section. To review the statistics on yourself, find your nickname or alias name in the list of players in the main Hand2Note window and double-click on it. The general popup will open, where you can review Hero's stats. In the same way you can check the statistics on any other player.
# How to look my stats in my opponent's eyes?
Open popup on a certain player

Press on the gear icon in the top right corner of the popup and select Show Hero's stats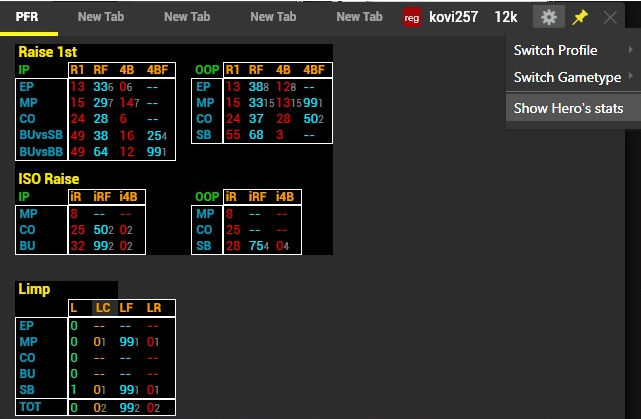 That's how this particular player sees your stats.
# What does "Distance to fish" mean?
For example, if player seats to the left from you then distance to fish equals 1. If fish seats to the right from you then distance to fish equals -1. Use this options to figure out your winrate at the tables with different relative position to fish.